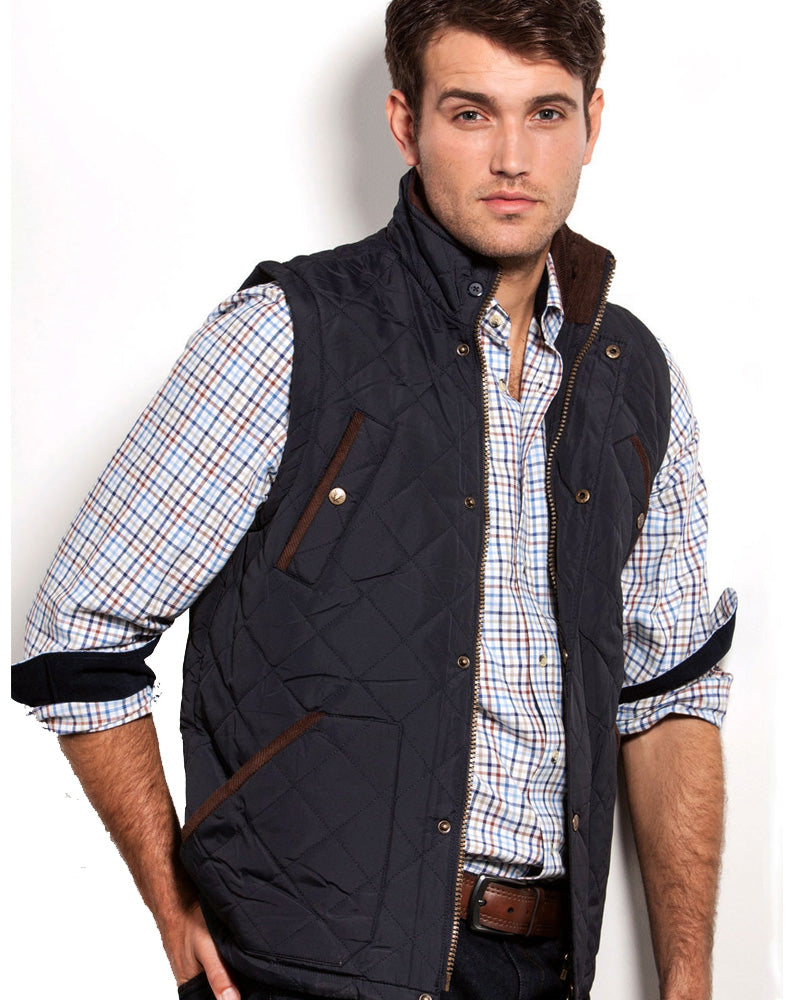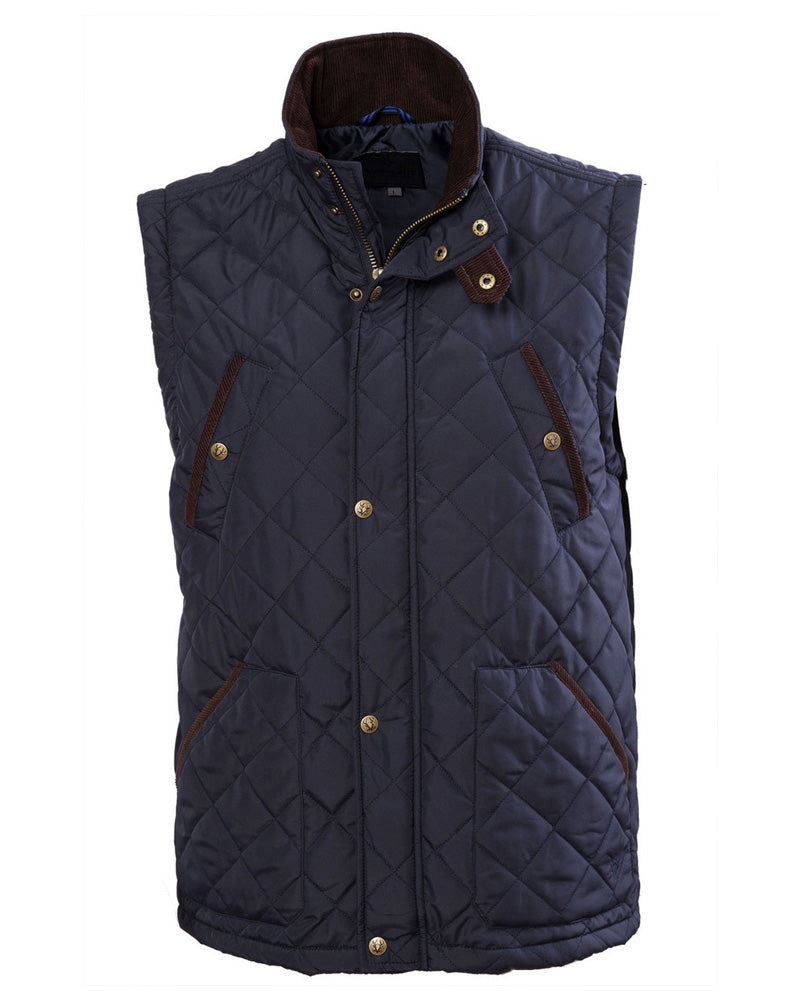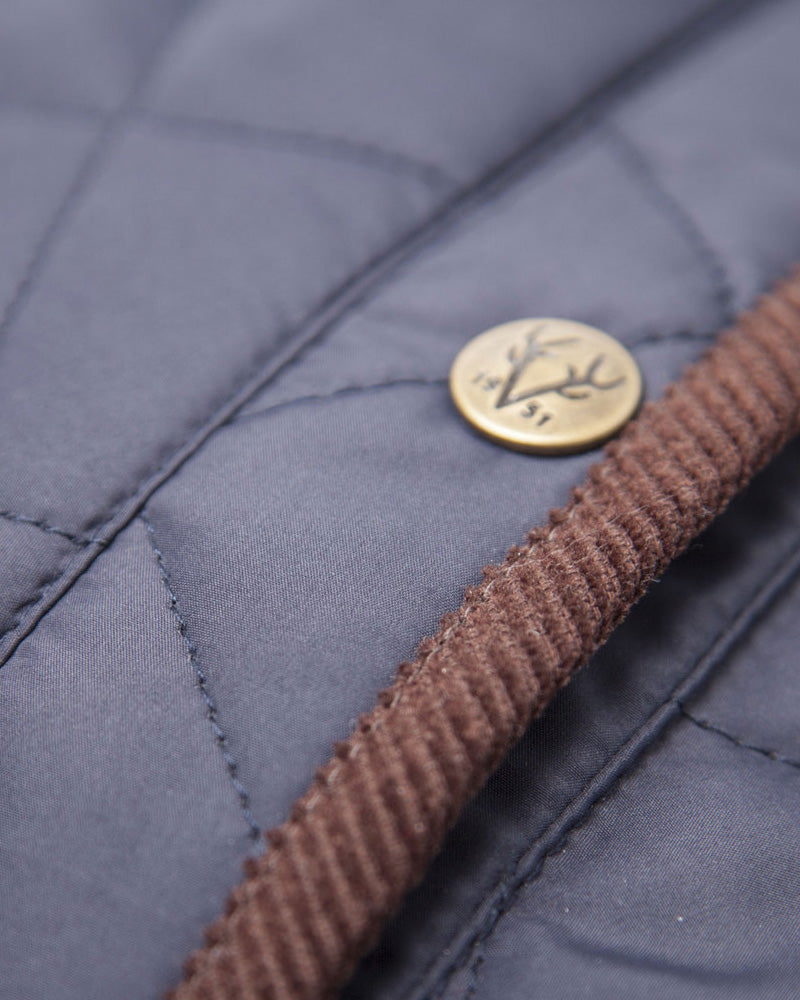 Vedoneire | Quilted Gilet with Pockets-Navy
Both timeless and stylish, the Vedoneire navy gilet is perfect for adding a lightweight layer over a shirt during the warmer months. It's finished with a chord trim and chest pockets.
*Please note that this is a dark navy colour which may look black in a certain light.
Durable water repellent finish

Fully quilted

Cord detail collar

Full length zip inside

Elastic bungee cord with adjustable toggle in hem

2 lower pockets with cord trim

Chest Pockets with cord trim and snap enclosure

Logo embossed zip and snap details
<style type="text/css" xml="space"><!--
td {border: 1px solid #ccc;}br {mso-data-placement:same-cell;}
--></style>
<span data-sheets-value="{"1":2,"2":"Both timeless and stylish, the Vedoneire navy gilet is perfect for adding a lightweight layer over a shirt during the warmer months. It's finished with a chord trim and chest pockets.\nDurable water repellent finish\r\nFully quilted\r\nCord detail collar\r\nFull length zip inside\r\nElastic bungee cord with adjustable toggle in hem\r\n2 lower pockets with cord trim\r\nChest Pockets with cord trim and snap enclosure\r\nLogo embossed zip and snap details\n\n*Please note that this is a dark navy colour which may look black in a certain light."}" data-sheets-userformat="{"2":769,"3":{"1":0},"11":4,"12":0}">Both timeless and stylish, the Vedoneire navy gilet is perfect for adding a lightweight layer over a shirt during the warmer months. It's finished with a chord trim and chest pockets.</span>
<span data-sheets-value="{"1":2,"2":"Both timeless and stylish, the Vedoneire navy gilet is perfect for adding a lightweight layer over a shirt during the warmer months. It's finished with a chord trim and chest pockets.\nDurable water repellent finish\r\nFully quilted\r\nCord detail collar\r\nFull length zip inside\r\nElastic bungee cord with adjustable toggle in hem\r\n2 lower pockets with cord trim\r\nChest Pockets with cord trim and snap enclosure\r\nLogo embossed zip and snap details\n\n*Please note that this is a dark navy colour which may look black in a certain light."}" data-sheets-userformat="{"2":769,"3":{"1":0},"11":4,"12":0}"></span>
<span data-sheets-value="{"1":2,"2":"Both timeless and stylish, the Vedoneire navy gilet is perfect for adding a lightweight layer over a shirt during the warmer months. It's finished with a chord trim and chest pockets.\nDurable water repellent finish\r\nFully quilted\r\nCord detail collar\r\nFull length zip inside\r\nElastic bungee cord with adjustable toggle in hem\r\n2 lower pockets with cord trim\r\nChest Pockets with cord trim and snap enclosure\r\nLogo embossed zip and snap details\n\n*Please note that this is a dark navy colour which may look black in a certain light."}" data-sheets-userformat="{"2":769,"3":{"1":0},"11":4,"12":0}">*Please note that this is a dark navy colour which may look black in a certain light.</span>
<span data-sheets-value="{"1":2,"2":"Both timeless and stylish, the Vedoneire navy gilet is perfect for adding a lightweight layer over a shirt during the warmer months. It's finished with a chord trim and chest pockets.\nDurable water repellent finish\r\nFully quilted\r\nCord detail collar\r\nFull length zip inside\r\nElastic bungee cord with adjustable toggle in hem\r\n2 lower pockets with cord trim\r\nChest Pockets with cord trim and snap enclosure\r\nLogo embossed zip and snap details\n\n*Please note that this is a dark navy colour which may look black in a certain light."}" data-sheets-userformat="{"2":769,"3":{"1":0},"11":4,"12":0}"><br /></span>
<ul>
<li><span data-sheets-value="{"1":2,"2":"Both timeless and stylish, the Vedoneire navy gilet is perfect for adding a lightweight layer over a shirt during the warmer months. It's finished with a chord trim and chest pockets.\nDurable water repellent finish\r\nFully quilted\r\nCord detail collar\r\nFull length zip inside\r\nElastic bungee cord with adjustable toggle in hem\r\n2 lower pockets with cord trim\r\nChest Pockets with cord trim and snap enclosure\r\nLogo embossed zip and snap details\n\n*Please note that this is a dark navy colour which may look black in a certain light."}" data-sheets-userformat="{"2":769,"3":{"1":0},"11":4,"12":0}">Durable water repellent finish </span></li>
<li><span data-sheets-value="{"1":2,"2":"Both timeless and stylish, the Vedoneire navy gilet is perfect for adding a lightweight layer over a shirt during the warmer months. It's finished with a chord trim and chest pockets.\nDurable water repellent finish\r\nFully quilted\r\nCord detail collar\r\nFull length zip inside\r\nElastic bungee cord with adjustable toggle in hem\r\n2 lower pockets with cord trim\r\nChest Pockets with cord trim and snap enclosure\r\nLogo embossed zip and snap details\n\n*Please note that this is a dark navy colour which may look black in a certain light."}" data-sheets-userformat="{"2":769,"3":{"1":0},"11":4,"12":0}">Fully quilted </span></li>
<li><span data-sheets-value="{"1":2,"2":"Both timeless and stylish, the Vedoneire navy gilet is perfect for adding a lightweight layer over a shirt during the warmer months. It's finished with a chord trim and chest pockets.\nDurable water repellent finish\r\nFully quilted\r\nCord detail collar\r\nFull length zip inside\r\nElastic bungee cord with adjustable toggle in hem\r\n2 lower pockets with cord trim\r\nChest Pockets with cord trim and snap enclosure\r\nLogo embossed zip and snap details\n\n*Please note that this is a dark navy colour which may look black in a certain light."}" data-sheets-userformat="{"2":769,"3":{"1":0},"11":4,"12":0}">Cord detail collar </span></li>
<li><span data-sheets-value="{"1":2,"2":"Both timeless and stylish, the Vedoneire navy gilet is perfect for adding a lightweight layer over a shirt during the warmer months. It's finished with a chord trim and chest pockets.\nDurable water repellent finish\r\nFully quilted\r\nCord detail collar\r\nFull length zip inside\r\nElastic bungee cord with adjustable toggle in hem\r\n2 lower pockets with cord trim\r\nChest Pockets with cord trim and snap enclosure\r\nLogo embossed zip and snap details\n\n*Please note that this is a dark navy colour which may look black in a certain light."}" data-sheets-userformat="{"2":769,"3":{"1":0},"11":4,"12":0}">Full length zip inside </span></li>
<li><span data-sheets-value="{"1":2,"2":"Both timeless and stylish, the Vedoneire navy gilet is perfect for adding a lightweight layer over a shirt during the warmer months. It's finished with a chord trim and chest pockets.\nDurable water repellent finish\r\nFully quilted\r\nCord detail collar\r\nFull length zip inside\r\nElastic bungee cord with adjustable toggle in hem\r\n2 lower pockets with cord trim\r\nChest Pockets with cord trim and snap enclosure\r\nLogo embossed zip and snap details\n\n*Please note that this is a dark navy colour which may look black in a certain light."}" data-sheets-userformat="{"2":769,"3":{"1":0},"11":4,"12":0}">Elastic bungee cord with adjustable toggle in hem </span></li>
<li><span data-sheets-value="{"1":2,"2":"Both timeless and stylish, the Vedoneire navy gilet is perfect for adding a lightweight layer over a shirt during the warmer months. It's finished with a chord trim and chest pockets.\nDurable water repellent finish\r\nFully quilted\r\nCord detail collar\r\nFull length zip inside\r\nElastic bungee cord with adjustable toggle in hem\r\n2 lower pockets with cord trim\r\nChest Pockets with cord trim and snap enclosure\r\nLogo embossed zip and snap details\n\n*Please note that this is a dark navy colour which may look black in a certain light."}" data-sheets-userformat="{"2":769,"3":{"1":0},"11":4,"12":0}">2 lower pockets with cord trim </span></li>
<li><span data-sheets-value="{"1":2,"2":"Both timeless and stylish, the Vedoneire navy gilet is perfect for adding a lightweight layer over a shirt during the warmer months. It's finished with a chord trim and chest pockets.\nDurable water repellent finish\r\nFully quilted\r\nCord detail collar\r\nFull length zip inside\r\nElastic bungee cord with adjustable toggle in hem\r\n2 lower pockets with cord trim\r\nChest Pockets with cord trim and snap enclosure\r\nLogo embossed zip and snap details\n\n*Please note that this is a dark navy colour which may look black in a certain light."}" data-sheets-userformat="{"2":769,"3":{"1":0},"11":4,"12":0}">Chest Pockets with cord trim and snap enclosure </span></li>
<li><span data-sheets-value="{"1":2,"2":"Both timeless and stylish, the Vedoneire navy gilet is perfect for adding a lightweight layer over a shirt during the warmer months. It's finished with a chord trim and chest pockets.\nDurable water repellent finish\r\nFully quilted\r\nCord detail collar\r\nFull length zip inside\r\nElastic bungee cord with adjustable toggle in hem\r\n2 lower pockets with cord trim\r\nChest Pockets with cord trim and snap enclosure\r\nLogo embossed zip and snap details\n\n*Please note that this is a dark navy colour which may look black in a certain light."}" data-sheets-userformat="{"2":769,"3":{"1":0},"11":4,"12":0}">Logo embossed zip and snap details</span></li>
</ul>
<span data-sheets-value="{"1":2,"2":"Both timeless and stylish, the Vedoneire navy gilet is perfect for adding a lightweight layer over a shirt during the warmer months. It's finished with a chord trim and chest pockets.\nDurable water repellent finish\r\nFully quilted\r\nCord detail collar\r\nFull length zip inside\r\nElastic bungee cord with adjustable toggle in hem\r\n2 lower pockets with cord trim\r\nChest Pockets with cord trim and snap enclosure\r\nLogo embossed zip and snap details\n\n*Please note that this is a dark navy colour which may look black in a certain light."}" data-sheets-userformat="{"2":769,"3":{"1":0},"11":4,"12":0}"><br /></span>
Let customers speak for us