A LOVE STORY WITH AN EDGE
In the early 1940s an Irish (Gaelic) speaker from Liverpool and a music teacher from Mullingar fell in love. Did their eyes meet across a crowded room at the local dance hall? No, Mairtin Standun and May Mulready met while they were both imprisoned in the 1930s for being viewed as sympatheic to the cause of a united Ireland. Mairtin was interned in the Curragh with May's brother, while she was in Mountjoy Prison with his sisters - and was one of the first women to be interned there. 
It was in the Curragh prison camp that Máirtín met the Irish scholar and writer, Máirtín O'Cadhain. He hailed from Spiddal in Connemara, and he had a major influence on Mairtin Standun, instilling in him a passion for the Irish language and culture.
On release from prison Máirtín's interest in all things Irish grew, along with his blossoming relationship with May. While on a cycling holiday in Connemra, they came across a small drapery shop on the outskirts of Spiddal with a "For Sale" sign and they fell in love…
HUMBLE BEGINNINGS
The drapery store was selling for six hundred pounds, a princely sum at the time for any young couple. Máirtín was a grocer's assistant and May worked as part-time teacher.
However, fired by enthusiasm and determination, and an ardent desire to live in the Irish Speaking Gaeltacht, the young couple saved every penny they earned and in 1946 Máirtín and May Standún bought the tiny shop to make it their own.
Thus were the humble beginnings of Standún, now one of the best known and most respected Clothing & Gift stores in the West of Ireland.
15 HOUR WORKING DAY...
Just as Máirtín and May's first meeting was no ordinary encounter, neither were their lives in Spiddal. From the very outset their business and social lives were uniquely interlinked with the local community, and with the culture and traditions of the Connemara Gaeltacht.
Like all struggling business people of their time, they worked a fifteen hour day building their business from the tiny shop in 1946 to an all purpose store within a few years.
 You name it, they had it: groceries, clothes, footwear, furniture, bicycles, cement and other building materials.
People travelled from all over Connemara and further afield to shop at Standún. Some travelled by bus, and others even drove many miles on turf lorries to make their purchases. Standún became a local hub for the community, ready to meet everyone's needs.
Fact: Standún's delivery van was also the family car and the local hearse!
Giving credit was essential during post-war times and this facility continued to be part of the business ethic of Standún for many years. Máirtín was later to comment that the people never let him down and they always paid their bills on time.
The Trade Board was formed in 1959 to market Irish goods abroad, and this allowed Standun to set up a finishing factory for Aran sweaters. It was to become one of the most important aspect of Standún's business - particularly as the tourist industry began to grow and develop in the 1970s.
The unfinished Aran sweaters boasted unique and varied patterns – the cable stitch represented the Aran fishermen's ropes, the trellis stitch symbolised the stone walls of Connemara… they were collected from knitters at home all around the country and brought to the factory for finishing.
A SIGNIFICANT EMPLOYER
To this day you can still find women from Donegal to Kerry and everywhere in between who relied on Standún to provide income from their handknitted Irish Aran sweaters. Standún was one of the most significant employers in the area. At one stage there were over 700 knitters on their books.
Standún also became the first store in Ireland to export the Aran Sweater to large department stores in the US such as Nordstrom and Lord and Taylor.
THE SECOND GENERATION
In 1972 Donal, May and Máirtín's son took over the business. The business continued to serve the local people with a grocery store, ice-cream parlour, general household goods, a butchers, petrol pumps and undertakers all under one roof!
Standún also continued to employ knitters all around the country, assembling the pieces instore. It became a landmark in Connemara for great value knitwear and excellent quality Irish products.
Export to the US remained strong and Standún was recommended in many guidebooks such as Frommers and Fodors as well as winning the Wall Street Journal Award for the best place to buy an Aran Sweater online.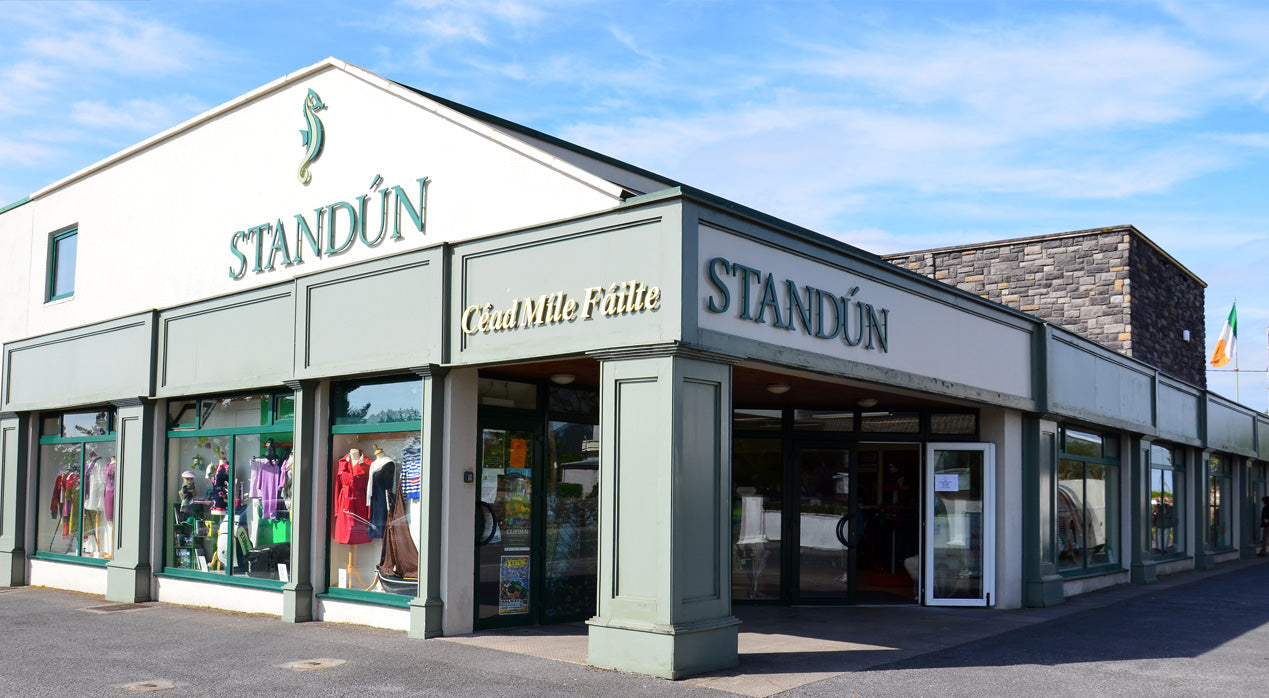 Standún shop front in 2012
Today
Standún is now managed by Máirtín and May's grand-daughters Clíona and Laragh and it very much reflects all that is best in Irish and International produce marrying the traditional and contemporary to stunning effect. Standún is also highly commended by the top European and US tour guides.
In 2018 the sisters opened another shop on the Main Street in Oughterard village. Standún being, synonmous with Connemara and the Aran Sweater is thriving in Oughterard Village which is often described as the Gateway to Connemara.
The sister's work closely together to serve both local customers and tourists. Their Grandparents are always in their thoughts and close to them in spirit as they continue to support their local community and keep the tradition of Aran Knitting alive!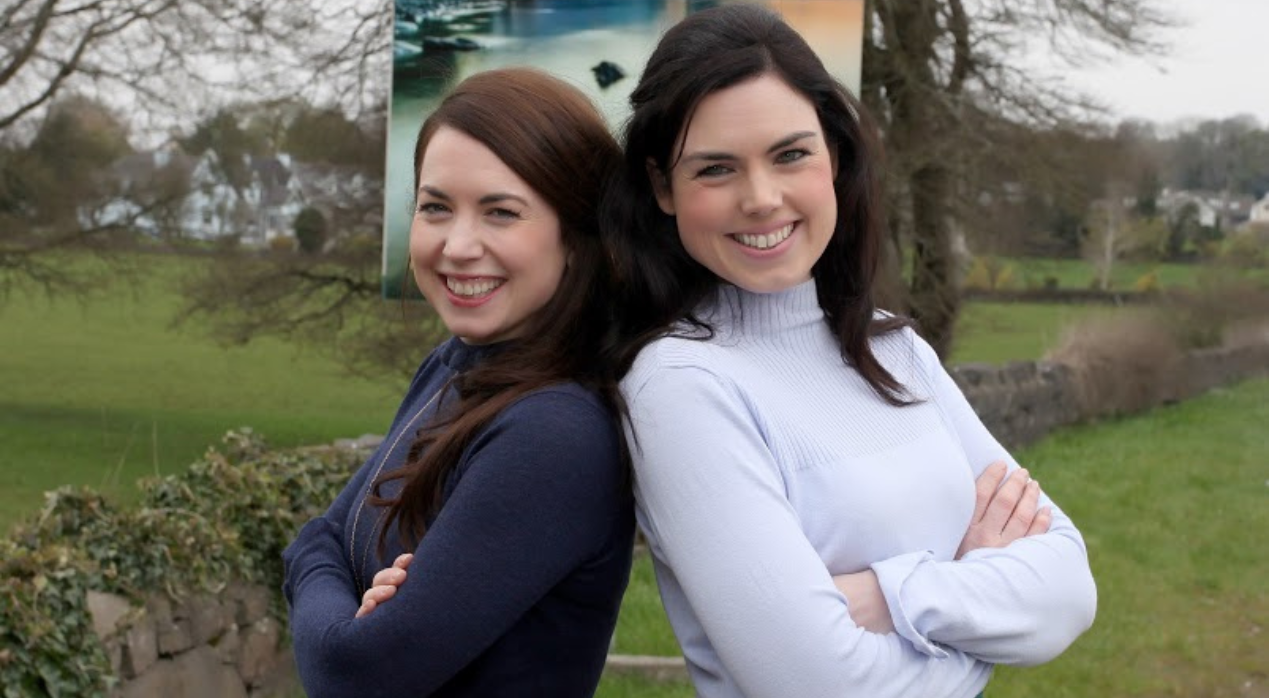 Sisters Clíona & Laragh Standún in 2018